Making a product roadmap is much more than plotting all your projects on a diagram. Managing a project portfolio is not about managing many projects at the same time. To make a roadmap means to link your execution to the strategy, to create transparency, alignment, and buy-in.
Different roadmap and PPM software tools on the market approach this task differently.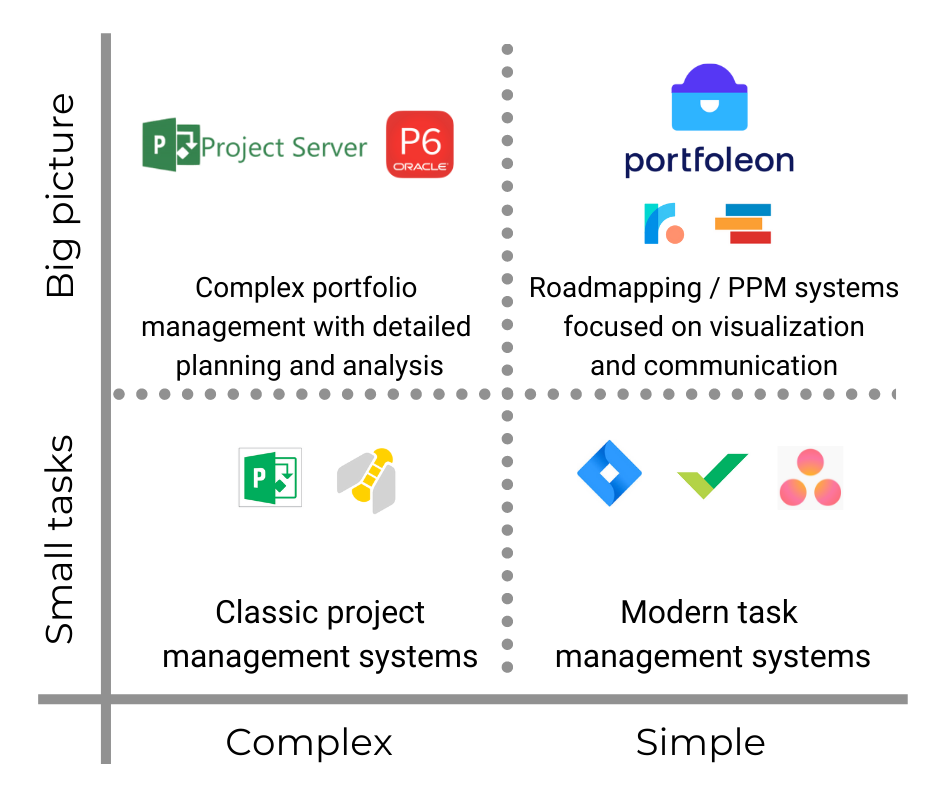 "Legacy PPM systems lack innovation, while the visualization-focused roadmapping products oversimplify your portfolio management challenge."
Focus on the big picture
Project management tools like Microsoft Project and task management tools like Jira tend to present your portfolio as a simple aggregation of all your tasks. Total effort, duration, and cost will be derived from every task in your portfolio.
This bottom-up approach may seem attractive at first glance, since your portfolio will always be in sync with your detailed work breakdown. However, in practice this approach is very hard to implement for two reasons:
It requires you to perform work decomposition too early, encouraging Big Design Up Front and limiting your agility.
It is difficult to make changes to your plans fast, because you will have to work through a lot of tasks to reflect the new reality in your system.
Instead Portfoleon focuses on high-level plans and does not hide the forest for the trees. Manage your plans in big blocks, such as epics or projects. You can perform decomposition and manage resources in very broad strokes, for example by defining that "for my API security redesign work I will need two developers from the Boston team, and a QA from the team in Sofia".
Portfoleon will automatically move and scale your blocks of work and reflect the updated resource load in the resource plan.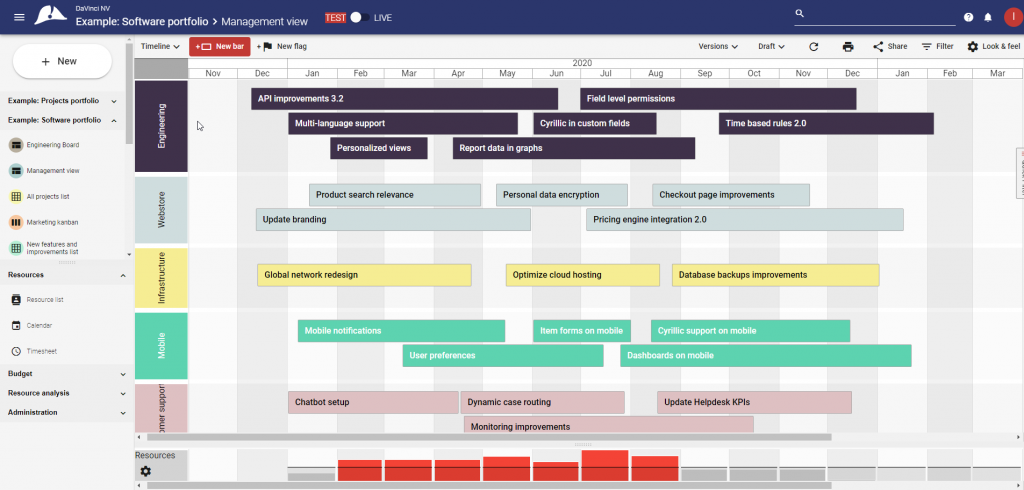 | Capability | Portfoleon | What we often see in other systems |
| --- | --- | --- |
| Information is viewed as | ✓ Visual boards, showing various aspects of the portfolio roadmap | Task lists or Gantt charts |
| Making changes | ✓ Updating projects, epics, or phases using spreadsheet edits or drag-and-drop | You have to update many task rows to properly reflect a change |
Portfoleon offers simple UI to manage complex things
Legacy project portfolio management software like Microsoft Project Server, Primavera, or KeyedIn gives you access to every detail of your portfolio, however the cost of this is often a slow and complex user interface.
If filling lots of forms for every project on your roadmap or navigating through different screens to collect important information sounds familiar to you, then you have probably used such software in the past.
We took a different approach with Portfoleon. Instead of implementing every aspect of the PMBOK guide in the system we focus on essentials - just a visual roadmap with resources planning done in broad strokes. You can use simple tools like dragging and dropping cards on the boards or editing lists in spreadsheets to get the job done.
As you drag or resize your projects, the schedule and resource demand are going to update automatically.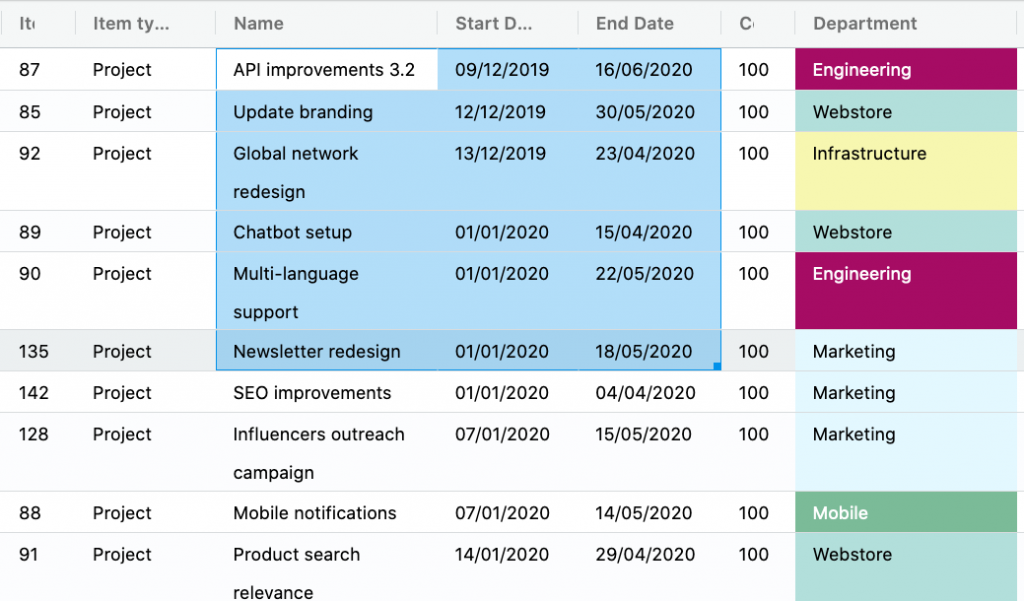 | Capability | Portfoleon | What we often see in other systems |
| --- | --- | --- |
| Editable spreadsheets | ✓ Portfoleon uses an Excel-like spreadsheet with copy/paste and drag-to-fill capabilities for faster editing. | You have to fill a form for every item or project, meaningful bulk editing is not possible. |
| Pivot tables | ✓ Portfoleon enables a powerful but simple to use on-line portfolio analysis with pivot tables. | Complex built-in analysis that requires training to understand. |
Portfoleon adds easy but powerful resource management
Most roadmap software tools, such as ProductBoard or Roadmunk, focus on visualization and sharing functionality. Just as Portfoleon, usually these roadmap tools offer simple but effective UI to create and manage roadmaps.
However, when it comes to feasibility, execution, and follow-up, using a roadmap tool is not enough.
Portfoleon is so much more than making a presentation slide. Resource capacity / demand planning enables you to check feasibility, find and resolve resource bottlenecks, get cost estimates - and all of that without leaving your roadmap board.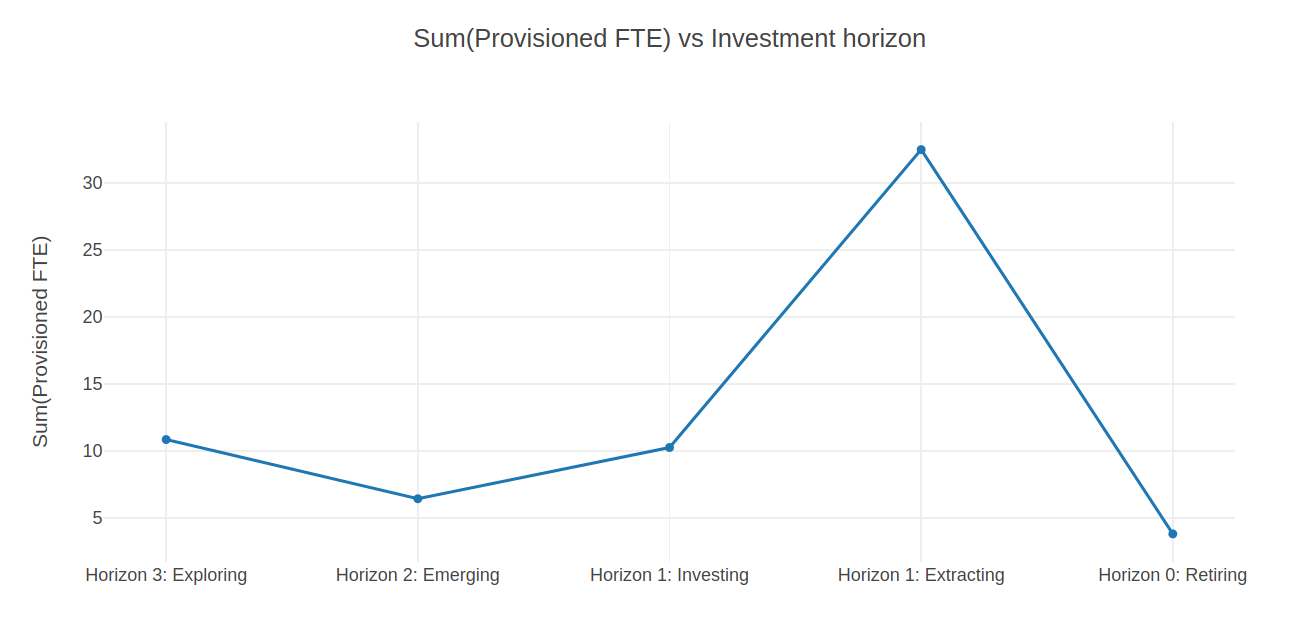 | Capability | Portfoleon | What we often see in other systems |
| --- | --- | --- |
| Lean resource management | ✓ In Portfoleon you can plan resources in broad strokes, sufficient for a high-level plan, but without going into too much detail. | No resource management, focus on visualization only |
| Pivot charts | ✓ Portfoleon implements charts to perform quick on-line resource analysis. | You can add resource information in custom fields, however no data analysis is available. |